Zoho CRM Makes Data Easier to View and Change
When it comes to your CRM, being able to see exactly what information you need at a glance is important. Views can often become cluttered with too much information, or not provide enough identifying details to know what record you are looking at. Zoho Canvas is a new feature within Zoho CRM that will allow much more customization and personalization. The goal of Canvas is the ability to easily identify records within each module, and customize views to provide easy segmentation.
One of the new features of Canvas is the ability to add images to be seen in each record in the modules. This can be beneficial for many different business scenarios; car dealerships can view each vehicle (shown below in Zoho's example), the Contacts module can show pictures of each contact for those who remember faces better, the Accounts module can show business logos, and many more.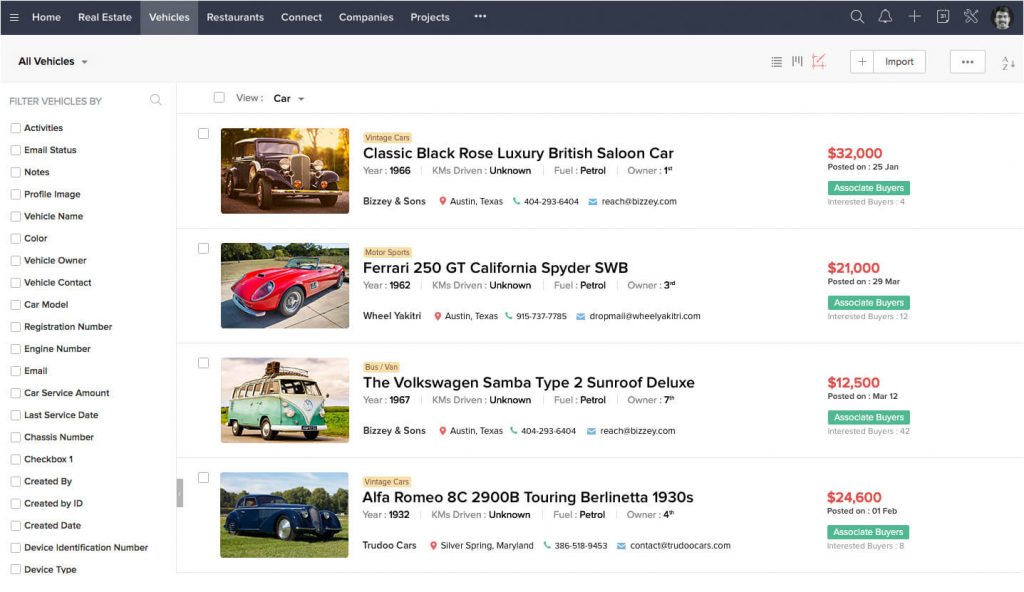 Zoho is also providing a new CRM View for Deals, which allows for better segmentation to see what is important to your business. They are also releasing the ability to drag and drop deals from different stages, with dynamic changes in revenue shown. This feature will allow for better Deal visualization, and easier data manipulation, but users should be careful with the drag and drop functionality, as it may be easy to move the wrong deal, or bring a deal into the wrong stage.
Finally, the spreadsheet view in CRM will allow easier and more accurate data manipulation for users. The layout is very similar to Microsoft Excel Sheets and Google Sheets. Data can be edited, added, and removed for each record, but once done, the user has to save the spreadsheet in order to have the changes reflected in the CRM. We have found this view extremely helpful when many records need different fields or values updated.
What does this mean for you?
Zoho is looking to make the sales pipeline move quicker, with more automation and easier usability for businesses. Viewing and updating data is becoming more intuitive and better laid out. This update will continue to help user experience and allow for more time to be spent on actually closing deals, rather than sifting through data.
We suggest you play around with the new features as they are released, and see how they can potentially benefit you. If you have any questions, or are looking for a qualified business consultant, feel free to schedule a consult with Catalyst Group.