With so many choices available, choosing CRM software for your business is not a simple task. And it's not unreasonable to expect customizable features for your business. This is one of the benefits a Zoho CRM Developer offers. 
CRM software stores your customers' contact information and traditionally was designed to manage the sales process. However, limiting your scope expectations to those functions can cause you to miss out on how CRM systems have evolved. 
Today's CRM is a powerful tool for your entire business. 
In order to receive the most benefit from a CRM system as a valuable tool for your business, here are four qualities you should look for when selecting one: 
Your CRM Should Manage the Complete Customer Cycle 
Generally, a CRM system is utilized during the selling process. Many businesses use CRM software as a way to manage leads. When a lead is entered into a database, today's CRM systems can automate the process of turning the lead into a repeat customer. 
Expect your CRM to streamline the marketing and sales cycles. From sending marketing emails to a lead contact to scheduling follow-up sales calls, the right CRM for your business automates the process like Zoho does. Your team leaders can then monitor the cycle from a sales pipeline created by this software. 
How a CRM System Manages Existing Customers and Sales Growth
With a successful sales cycle, the lead becomes a customer. As a result, the CRM system begins tracking the customer's revenue. The system then produces reports tailored for your business by a Zoho CRM developer. 
The CRM system is integral to growing the customer relationship by scheduling thank-you emails, adding the contact to relevant marketing campaigns, and managing touchpoints with the customer. These are just a few of the many ways Zoho CRM contributes to increasing revenue from customers. 
But your expectations of a CRM system shouldn't stop there. For example, with Zoho CRM, you can set a notification alarm for your team to follow up on when a shipment is missed.
In addition, a Zoho CRM Developer from Catalyst Connect can create a custom web portal that improves the ordering process for the customer. Also, Zoho software is capable of creating invoices from order information. It can then send a notice to your accounts receivable if a payment is missed. 
The current trend for CRM systems is this overall approach to customer lifecycle management. 
Your CRM Should Integrate with Your Website and Social Media Channels
Zoho is a social media CRM that integrates with and helps manage these channels. When a customer sends a tweet or posts on Facebook regarding your company, a team member is notified for follow-up. This automates the process of tracking customer interactions with social media marketing efforts. 
It also ensures you are effectively managing your social media channels. Unfortunately, on occasion, a customer may share a negative experience with your business on social media. Zoho CRM software provides a way to monitor this activity around the clock and make sure it's addressed. 
A CRM system like Zoho also integrates with your website. It can be set to send internal notifications when customers interact with your site. You can even store information from chatbot sessions 24/7 for follow up. These are just two examples of the many ways a CRM is a tool that enhances online channels.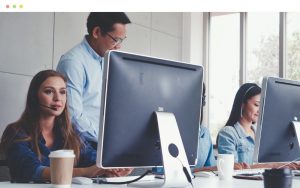 Your CRM Should be Customizable and Scalable
A customizable CRM solution is one that is modifiable to your specific needs. A Zoho CRM developer helps customize fields, views, and layouts to capture the customer information you want. Also, Zoho software offers the opportunity to create custom workflow processes. 
Reporting and analytical tools are an important function of your CRM solution. Creating custom reports is a way to datamine your customer information. A Zoho CRM developer can help adapt the systems reports to compile the information you specify. 
In addition, Zoho CRM has options to customize analytical reports to help you manage team members or track marketing campaigns. 
Scalability is becoming an expected feature in business today. It's an important quality to look for when selecting a CRM for your business. Zoho provides a scalable solution in several ways. First, Zoho offers a free version of its software for up to three users. As a result, businesses scale up to the number of users when necessary. This means they aren't paying for more than they need. 
Zoho takes scalability a step further by offering app add-ons for various business functions. A business may start by using the key Zoho customer management features. Then, they grow the system by adding on apps as needed. Eventually, Zoho can become the tool that manages business processes across the spectrum. 
Expect a CRM to Provide Training and Ongoing Support
The best CRM system in the world is ineffective if your team won't use it. One way to ensure this doesn't happen is for your staff to receive both the training and support they need to be comfortable with your CRM system. 
That's where a Zoho Premium Partner like Catalyst Connect comes in. Our Zoho experts are here to train users who administer the system. Also, when you work with us, we provide support not only through the implementation process, but on an ongoing basis. 
Furthermore, we support our clients' ongoing education with informative webinars. And our clients appreciate that we are available for online chats regarding Zoho CRM system questions.   
Qualities to Expect from Catalyst Connect Zoho CRM Developers 
At Catalyst Connect, we want our clients to realize the best possible return on their investment in a Zoho CRM system. One way we support this goal is through our knowledgeable and experienced Zoho developers. 
First, our Zoho developers learn about your business. After that, they work to deliver customized Zoho solutions based on your business needs and goals. 
We know your growing business is constantly developing. As a result, what you expected from a CRM system yesterday may be different from what you need next month. Our developers are available to adapt Zoho CRM to your evolving business.
For more information on the qualities you can expect from Zoho systems and developers, contact us today.