Today's customers expect more than outstanding service; they want engagement with companies on social media. Choosing a social CRM system that tracks and simplifies the process of interacting with customers on social media is the ideal solution. Zoho partners with companies like ours to offer their CRM that can integrate with social media and streamline customer interactions. 
What is Social CRM?
Social customer relationship management connects a company's customer database to their Facebook, Twitter, LinkedIn, and other social media channels. It serves many functions, including marketing sales and service. 
Zoho is a social CRM platform. Zoho integrates with social media channels to help track customer interactions. It stores information for future conversations that deepen customer relationships. And Zoho partners can help a business customize notifications to specific personnel when customers engage on social media. 
Why Your Business Needs Social CRM
Consider social CRM software as a listener to online conversations about your business that don't require valuable time from personnel. Social CRM like Zoho saves resources. When Zoho "hears" a social media interaction and alerts someone to respond, you gain an opportunity to impress your customer with a timely response. 
Some people prefer to interact with social media channels, and social CRM ensures your business isn't missing important conversations about your brand. It provides a way to build or improve your brand image. In the unfortunate circumstance of a negative post or comment, social CRM allows a quick response. The result is a public message that your business is committed to customer satisfaction. In addition, a circumstance with potentially negative consequences can be turned into a positive one. 
Another benefit of social CRM is using it to reward loyal customers publicly or share a positive comment to a broad audience. In these instances, social CRM furthers your brand and encourages loyalty. Brand management on social media is vital for businesses, and as a result social CRM serves this function. 
Social CRM grows revenue when used in conjunction with marketing activities. With Zoho, a business can create an email campaign that sends a coordinating message on social media. After that, recorded responses can lead to follow-up. With that, the potential for new sales increases.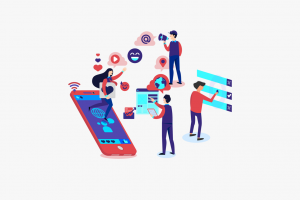 Benefits of Zoho Social CRM for Your Business
If your business has social media profiles across Facebook and Twitter for several products or services, Zoho CRM also makes it easier to manage them. As a result, you can set up all the social media profiles under one tab, and Zoho synchronizes all the profiles and settings in real time.  
From the Social tab in Zoho CRM, manage all social media conversations in one place with ease. Imagine the time saved from not logging into each social media platform to share content! 
Zoho provides a dashboard for you to view all social media conversations regarding your business. It gives you a quick snapshot of how a post is received or what customers are saying about your business at the moment. 
And Zoho is always listening, so you don't waste staff time monitoring social media. You can also set up a notification through Zoho to a sales or customer service rep when a customer interacts on your business's social media accounts. Awareness and responsiveness to social media do not go unnoticed by customers. 
Automate social media lead generation by setting up triggers based on customer interactions with Zoho CRM. From there, you can also automate the assignment of leads and contacts to sales reps with assigned follow-up tasks. Zoho partners like Catalyst Connect can help you customize these workflows. 
The most recent social media conversations with a contact in your Zoho CRM profile database are stored. This means the information is readily available as you respond to tweets and posts. 
How Zoho Partners Like Catalyst Connect Can Help with Social CRM
We've covered some of the social CRM benefits of Zoho. A Zoho expert from Catalyst Connect knows all the ins and outs of the Zoho Social platform. We are happy to discuss those with you, and also to customize a solution for your business. 
Clients are often surprised when we uncover features they weren't aware of previously, like the social CRM aspect of Zoho software. We want you to receive the most return on your Zoho investment and are here to educate you on its potential. 
Using Zoho social CRM functions is a way to get the most of Zoho and maximize your social media engagement. It also streamlines the process of social media interactions and provides automation that means you won't overlook any posts. 
For more information on how Zoho is a Social CRM tool ready to work for your business, contact us today!