The first call center opened in 1957. Some thought the introduction of computer-generated voice responses in the 1980s meant the call center would soon be obsolete. However, that was clearly not the case since call centers play a vital role in many businesses today. As they continue to evolve and innovate, Zoho CRM consulting experts make sure they have the tools they need to remain successful. 
Changing Customer Expectations and Today's Call Center
While customer expectations change, it's interesting to note that studies show 73% still use voice communication for contacting a company. When a customer is unhappy with a company's product or service, they overwhelmingly prefer speaking with an individual over the phone. On the flip side, many customers claim a positive experience with a customer service agent as the reason they love a particular company. 
Today's customer places a high value on their time. In fact, 71% of the participants in a study by Forrester indicated that valuing their time was the most important thing a company could do for them. 
Because of this, the conclusion is that providing customers the option of speaking via phone with a customer representative remains very relevant in the call center of today. However, customer usage of other channels like email, chatbots, and social media continues to increase rapidly. 
Call Center Changes
The most successful call centers today recognize all of these factors, incorporating their customer touchpoint interactions across channels as a best practice. This makes Zoho CRM software an ideal choice for many companies today. Zoho's platform is perfect for integrating customer communication from various channels.
For example, when a customer tries to solve a problem via email and a chat session online, that information is available to the representative from Zoho's platform. The customer realizes the company values their time when they don't have to repeatedly explain their problem. CRM systems like Zoho allow customer service agents to view the recent communication history when they take the incoming call. 
At Catalyst Connect, we understand the power of combining channel communications with a client's phone system. This is why we offer business phone systems that integrate with Zoho CRM. Additionally, our phone systems offer VoIP cloud-based solutions to meet the needs of today's changing call center environment. A Zoho CRM consulting expert can help clients customize these options for their business. 
The Evolution to Remote Call Centers
The stage was set for technology to evolve for remote call centers in the 1990s. Late in that decade, businesses started to outsource customer call center work to companies offshore. Customer service calls from all over the world were routed to companies in India, for example, to cut costs. 
However, outsourcing companies based in the United States started to gain steam before 2020. The outsourcing market saw an opportunity to shift customer service work out of call centers into homes. The internet made this economically feasible. 
Then, in 2020 the Covid pandemic accelerated this shift on a massive scale. Shifting call center work to remote at-home workers became a necessity. Remote customer service workers were able to adjust to this change and remain productive. The result is a trend that won't reverse itself anytime soon. The added benefit to companies is remote customer service work opens up the labor pool while keeping costs in check. 
The call center of today is less of a physical "center," but more of a virtually connected network of customer service professionals. Zoho was ahead of the curve and developed a CRM platform that works as well in a traditional call center as it does in the remote call center of today. A Zoho CRM consulting professional from Catalyst Connect is a resource for tailoring the platform to support any company's transition to a remote call center.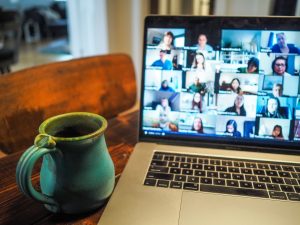 A CRM System is Essential for the Call Center of Today 
Forward-thinking companies of any size implement CRM systems from the beginning. As call volumes increase for a company, CRM software becomes a necessity for doing business. And as mentioned, a CRM system like Zoho eases the transition to remote call centers. Not only does it keep customer service representatives connected back to a central database, but it also allows performance tracking. 
Customer service team members are an excellent resource for additional sales. A best practice for CRM systems is to make the most use of this customer touchpoint. Zoho CRM software provides the tools necessary to convert customer contacts into potential sales. The importance of customer service relationships in the sales model of today is critical. Customer service agents develop relationships with valuable customers. Training these agents on sales techniques is a logical progression. 
Another way to grow sales is to ensure customer satisfaction with existing accounts. A satisfied customer spreads the word to at least six other contacts on average. As a result, a best practice for CRM is to facilitate an enhanced customer experience that leads to increased sales.
Artificial Intelligence and the Call Center of Today
A recent poll indicated executives consider the customer experience as their primary reason for investing in artificial intelligence (AI). Call centers are emerging as a playing field for using AI as a way to boost customer loyalty and increase sales. 
For example, AI conversational tools are expected to handle 20% of all customer service requests by 2022. Zoho CRM AI applications add to this benefit by providing customer agents with detailed information on a customer as the call drops into their queue. 
AI is also used in the call center of today to automate customer service functions and streamline communications. The results are an improved customer experience and increased production from customer service representatives. Users with Zoho CRM can maximize the potential for AI through the Zia interface. 
How the Call Center of Today Benefits from Zoho CRM Consulting
Sometimes businesses take advantage of several Zoho CRM functions but miss out on others. This is because the system truly does so much when put to its full use. Businesses can't know all the customized options available for the call center of today. That's where a Zoho CRM consultant from Catalyst Connect comes in and works with a business. The consultant is a resource for making sure the business is getting the most out of the system. 
Zoho CRM consultants are knowledgeable about current call center trends. As Zoho experts, they can see the potential for customization in today's call center. Catalyst Connect's consultants take the time to get to know a business and how Zoho CRM can improve call center functions and solve existing problems. The result is a CRM designed for the call center of today that ensures the highest return on investment.
Contact us today to learn more about how Zoho CRM consulting can benefit your business.