Many companies enjoy the benefits of Zoho CRM, but may not be taking full advantage of the platform. Hiring Zoho experts is the ideal way to bridge this gap. Catalyst Connect has a team of experienced consultants and developers at the ready to make sure you are receiving the most benefit from Zoho to improve your business's performance.
Zoho Experts Know the Solutions That Improve Business Processes
Zoho indeed offers market-leading software for managing your customer relationships. However, you miss out if your perception of Zoho CRM is limited to this core function. Zoho experts know the product inside and out. They create custom modules, code custom functions, and custom workflow rules designed for your unique business. 
For example, maybe you have departments in your business that aren't communicating efficiently. Zoho experts know which modules to adapt or add to solve this problem. Zoho CRM is effective at streamlining and improving internal communications for your business. 
Another Example
In another typical business scenario, cash flow is suffering, and you realize the problem is slow-paying accounts. So, a Zoho expert shows you the analytic reports available to drill into the core of the problem. The reports show a trend indicating the cash flow problem is solvable with two of your largest accounts. 
Then, you meet with the account contacts to discuss the matter. Maybe you discover in one case that the problem is invoicing. Your invoice payments are late because the statements aren't going to the right person. A simple correction in your Zoho CRM starts sending the invoice to the correct individual, and payments start coming in on time. 
Another option is that you run a trial offering a large account a discount for paying invoices before being due. A Zoho expert shows how to automatically apply the discount and send a thank-you email as a follow-up. After reviewing an auto-generated report from your Zoho CRM system, you notice within one fiscal quarter the account consistently pays early. The bonus is an upward trend in revenue from the account. 
Zoho experts helped solve a problem in these situations by adapting Zoho CRM. When running a business, you can't expect to be an expert on everything. Because of this, calling in a Zoho partner for help is a good practice. 
Maximize Sales and Marketing Efforts for Your Business with Zoho Experts
You naturally want the most from your business's sales and marketing efforts. And it's more important than ever to maximize this potential while ensuring a return on resource investment. 
At Catalyst Connect, we understand this and want your business to be as successful as possible. Zoho CRM offers a vast array of options to enhance and support sales and marketing for your business. Calling on a Zoho expert from our team is a way to make sure you receive the full benefit of this robust resource. 
Not only does Zoho CRM allow you to create targeted marketing campaigns, but it also automates the process. However, the best marketing campaigns are worthless if they don't eventually lead to increased sales. Zoho CRM carries the marketing campaign into the next process by identifying leads. 
Zoho experts know how to capitalize on this potential and the best options for lead follow-up and pipeline management. Furthermore, at any point in the marketing to sales process, Zoho analytical reports show what's working and what isn't.
Also, Zoho CRM is designed for social media integration. Zoho experts help you unleash the full potential of all marketing channels by customizing the tools at your disposal. 
The result is increased sales revenue and efficiency.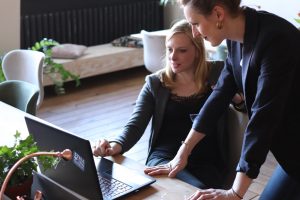 Achieve the Best Results by Viewing Zoho CRM as a Comprehensive System
Zoho experts show how to scale up your Zoho solution to streamline and improve your business operations across the spectrum. They know Zoho CRM's attributes as a comprehensive business system. 
A Zoho Consultant from Catalyst Connect takes time to learn about your business. Consider a discussion with a Zoho Consultant as an opportunity to improve your overall business operations. 
By understanding the areas your business excels in as well as your pain points, they know how Zoho CRM works best as part of your business operations. Whether educating you on underutilized tools in your Zoho system or recommending custom modules, Zoho experts lead to improved processes and results. 
Catalyst Connect Has Your Zoho Experts with Resources for Improving Your Business
Catalyst Connect's Zoho expert developers and consultants help you realize the full benefits of Zoho CRM. Our team is very experienced in creating customized solutions for various types of businesses. We want your business to realize its full potential and approach Zoho CRM customization with that priority. 
From improving sales to better collection results for accounts payable, there is an adaptable Zoho solution just waiting to be put to use. Our Zoho experts share examples from their experience of how other businesses enjoy success with Zoho CRM. These conversations often spark ideas on customized Zoho solutions for your unique business needs. 
A Zoho consultant from Catalyst Connect works with you to achieve your business goals with the system. And our Zoho developers create easy-to-use interfaces and customized web portals, to name just two examples of their skill sets. We strive for success with Zoho CRM with an eye on a user-friendly experience. 
Regardless of your needs, our Zoho experts want you to receive the most benefit from the Zoho CRM platform. Contact us today to learn more about the Zoho products and services we offer.