As a Zoho CRM user, you know what an essential tool it is for business. But are you receiving the full benefit from it? One way to ensure that you are is to work with a
Zoho developer
to customize solutions for your business. Zoho has so many features that sometimes it's a good idea to check in to review what's available. 
Some features already exist within Zoho CRM, and it's simply a matter of discovering their functions. Add-ons are also available to take the data within the CRM and expand on its use. 
Consider these features or add-ons of Zoho to put to work for your business, if they aren't already:
Integrate Accounting Functions and CRM with Zoho Books
Zoho Books is available as accounting software that integrates with your CRM. It provides powerful reporting tools that help you track expenses, receive faster payments, and track inventory in real time. Zoho Books can even be set up to automate banking processes and collaborate with a Zoho Unified Client Portal Plugin for WordPress.   
Client Portal Plug-In from Catalyst Connect
A Zoho Unified Client Portal Plugin for WordPress from Catalyst Connect is a way to fully integrate all your Zoho CRM tools and put them to use for your customers. Client portals unlock the potential of Zoho CRM, Zoho Books, Zoho Desk, Zoho Projects, and Zoho Inventory to work together supporting your customer interactions 24/7.  The Zoho Unified Client Portal Plugin lets customers access or pay invoices, accept or decline quotes, and view their account financial information. All this is made possible by seamless integration with Zoho Books through the portal plugin. The Client Portal also allows you to sync all modules and fields from Zoho CRM to the client portal. You can easily customize the interface by selecting which modules sync to the portal and arrange fields to your preferences. With the Zoho Desk module, for example, you can create a knowledge base to help find answers to your customer's questions quickly.  The client portal integration with Zoho Subscription allows you to sync your active Zoho subscriptions directly to the Client Portal. It makes managing multiple subscriptions easier than ever. Also, this feature gives you the ability to explore new subscriptions and manage payment methods. Data security is a priority for any business these days. Client portal integration with Zoho Vault allows control over security information like login credentials and passwords.  Signatures are still relevant in our digital age. Client portal integration with Zoho Sign allows you to upload documents and send them out for electronic signatures. It makes the entire process efficient and easy to track.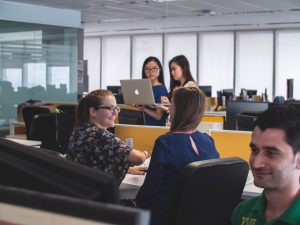 Telephony Features of Zoho CRM That Enhance Customer Service Efficiency 
With single-click dialing directly from the Zoho platform, call dialing is streamlined and calls are logged automatically. Once telephony is set up for integration, anytime a user views a contact card, they have the option of click to call.  The Zoho telephony feature also has built-in reminders so you can set callbacks for the future, and automatic call logging makes it easy to view customer info and a conversation history. Call reporting and analytics are other useful telephony features that offer valuable data visualization and custom feedback on your customer service. To benefit even more from Zoho's telephony features, consider a phone system from Catalyst Connect. We analyze your needs and select a system that integrates best with your CRM. Your team will have access to Zoho CRM info for every call, and customer service call processes are more efficient as a result.
Zoho Analytical Tools Are at Your Fingertips
Every month you pull one or two reports from your business's CRM software. This is a great start, but Zoho has so much more to offer with analytics. Analytical tools can be used for internal performance measurements. Or you can take it a step further and tap into the marketing insights Zoho can provide. Also, you can check trends of customer interactions to identify and solve issues before they cause lost revenue. Zoho is a powerful analytical tool waiting for you to discover its potential. A Zoho expert can help you identify what reports are available that can help your business. 
How a Catalyst Connect Zoho Developer Can Help 
Zoho CRM is scalable and customizable. You don't need to be an expert to realize its full potential when you have a partner like Catalyst Connect. Sometimes a business has a problem, and they don't realize their CRM is a potential solution. When a solution isn't obvious, a Zoho developer can help reveal it. Our developers enjoy a challenge, and we want you to receive the most return on your investment in Zoho. Contact us to learn more about the services we offer to make that happen today!