Help Desk Management Software For Your Business
Zoho Desk gives you the ability to manage your customer support activities efficiently. Zoho Desk allows you to assign, track and set up alerts on help desk tickets easily. We can customize Zoho Desk for your business and ensure satisfaction in your customer support experience.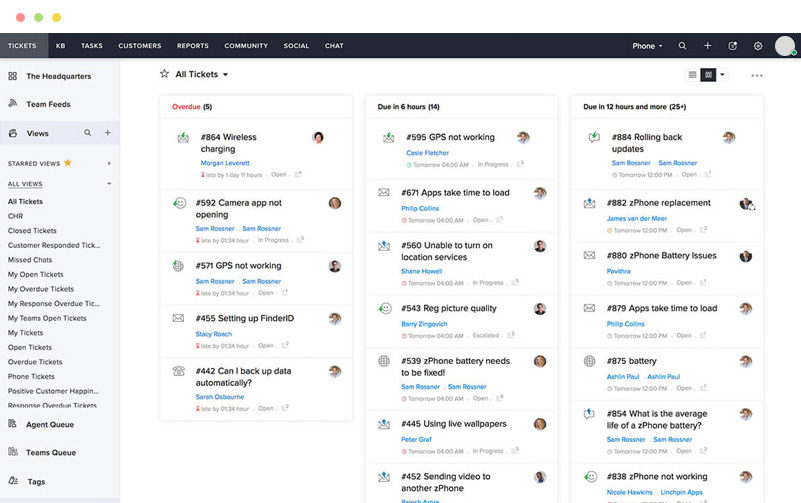 Customer service, easier done than said.
Zoho Desk is the industry's first context-aware help desk software that helps businesses focus on the customer. From increasing your agents' productivity, to crunching through performance metrics, to working in sync with other apps that you use, get to the core of your customer service efforts.
Ticket Management
The software pulls customer emails from an email address and lists them in a single place. It allows a help desk executive to answer calls from customers and log them easily. It enables customer support executives to listen and respond to customer feedback on social media, such as Facebook and Twitter.
Automation Suite
It allows a help desk coordinator to ensure that questions from customers are redirected to employees who can answer them. It enables the coordinator to monitor when a support executive hasn't responded to a ticket, or when a ticket is taking too long to get resolved, or one of the several other possible cases.
Reporting and Optimization
The most important function of customer service. Managers can understand parameters such as load on the help desk team, turnaround time, and resolution rate of each executive etc. Metrics like these give managers a quick perspective of how things are faring and let them make amends for the better.
9 Best Reasons You Should Choose Zoho Desk
Connect with your customers via multiple touch points.
Create support tickets from the phone, e-mail, website, Help Center, and other channels. The community forums provide your customers a platform for discussion with the ability to convert a forum post into a ticket.
Have you agreed to address tickets within a fixed time frame?
Configure your customer contracts in Zoho Desk and close tickets on time. Setup SLAs to define ticket due dates and escalate them to multiple levels when they fall overdue.
Increase your agent productivity by automating your support process using Workflows.
Assign incoming tickets to agents based on criteria. Set ticket priority based on the payment plan the customer is in. Set up tasks and send alerts on pre-defined incidents.
Send an acknowledgment e-mail on receiving a ticket from your customer automatically.
Notify your agents when a ticket is being assigned to them. Keep your customers and agents in the loop by sending notifications via e-mail or SMS.
Provide your customers a powerful knowledge base...
with FAQ and other articles categorized by topics. Set an article to be displayed to all or to logged-in customers alone in the Customer Portal. Create articles for your agents exclusively.
Determine the best layout for your customer portal.
Own your help desk by mapping your support domain to Zoho Desk. Upload your company logo, set your link-back URL, and customize your portal according to your needs.
Take stock of your help desk activities using in-built reports.
Measure specific aspects of your ticketing process by generating custom reports effortlessly. Report building in Zoho Desk is effortless. You can display summary information and vital statistics under the Dashboard for quick view.
Do you receive sensitive information from your customers?
Your content goes here. Edit or remove this text inline or in the module Content settings. You can also style every aspect of this content in the module Design settings and even apply custom CSS to this text in the module Advanced settings.
Close your customer loop from sales to support by integrating with Zoho CRM.
Zoho CRm is an industry-leading customer relationship management application. You can import your contacts and accounts information from Zoho CRM for contextual support. View support tickets raised by your leads, contacts, and accounts from within Zoho CRM.