The following document outlines typical business processes, workflows, and Zoho features we deploy to meet these use cases. Clients typically deploy this best practice starting point as a means to get a jump start on their implementation since it provides a robust framework of apps, functions and automation to ensure the Zoho apps get setup properly. 
At the center of a Zoho One implementation is Zoho CRM (Customer Relationship Management). This overview will focus on the processes and workflow from within the CRM and will highlight both native and custom functionality and handoff points, both automatic and manual, to other Zoho Apps.
If you believe this workflow will meet your needs, please request our Professional Services Project Plan that details what is included in the setup.
These days, most sales and marketing initiatives begin by driving traffic to a website. Zoho Sales IQ is a fundamental tool not only for visitor chat, but tracking their engagement on your website as well. We include a basic setup and integration of Sales IQ with the CRM as part of all our Zoho One setups. This basic integration will allow users to proactively chat with a visitor and push them into the CRM as a lead. On the CRM side reps will be able to see page visits and chat transcript to help qualify the lead quickly. 
There is a lot more Sales IQ offers when a full implementation is done with Chat bots, Social media integration etc.
Many sales processes begin with a prospective customer visiting a website and submitting a contact form, downloading a case study, white paper etc. There are a few ways to integrate these forms into Zoho CRM. We use Zoho Forms because it is flexible, feature rich and easy to integrate to the CRM. When a form is submitted, a lead is created in the CRM that then triggers workflow automation that assigns the lead and triggers a task to qualify and enrich the lead. Once a lead is qualified, it is converted into an Account, Contact and Deal.
In order to gain insight on Marketing attribution and because a user cannot reference a previously converted lead, we add a custom module called "Form Submissions" that tracks each webform, case study, etc. a person interacts with. When a lead is converted, the "Form Submissions" will follow the converted lead to the Contact record so you can see the full history on what engagements ultimately led to a sale
Using Lead Assignment rules we automatically route leads to the appropriate sales rep. We also set up workflow automation based on the following statuses: New, Qualifying, Nurture, Contact in Future, Not Qualified, Dead and Junk Lead (see diagram). When the Lead is created from a webform, an automated email will be sent thanking them for reaching out. Having a priority queue is important which is why we create custom views in the leads module so sales reps can easily see the leads that need following up with. 
The Leads module allows users to enrich the lead data with public information, add notes and attachments, view website visitor history and chat transcripts where applicable, log calls, create meetings and assign tasks.
The lead module will also add a lead to a nurture campaign in Zoho Marketing automation when applicable (example: lead status changed to nurture)
When a lead is converted, it becomes an Account (Company Information), Contact (Person) and Deal (business opportunity). The account module becomes the central record to understand everything going on with a prospect or client. Zoho can track when the last time an account record was edited or an activity took place, but it does not take into account interactions with related contacts. For this reason we add a custom field called "Last Account Activity Time." Anytime a call or event is logged against a related contact, this field will be updated as well. This will help managers keep track of which accounts may or may not be neglected. 
We also add a field called "Status" to the Account to distinguish if an account is still a prospect, client or past client. It is helpful to add a custom function that keeps the related contact of this account up to date so when the status or billing information changes on the account it updates on the contact records as well. 
Zoho's Deal module is used to track your pipeline of business through the use of Sales Stages. Each stage will be associated with a likelihood of the sale closing, which can give you a pipeline report of expected revenue and allow Reps to effectively manage their pipeline based on followup or closing dates. 
Out of the box, Zoho allows a user to create quotes, however when it comes to professional services, one needs to send a proposal instead of a quote. We recommend adding a subform to the Deals module that allows sales reps to add all the services that may be relevant to the engagement directly on the deal. This is useful because the subform can merge directly into a proposal template using Zoho's mail merge functionality, which can then be sent out for signature via Zoho Sign.
For organizations with standardized scopes of work or services, multiple services can be grouped together into a single service package and populated onto the deal by simply selecting the service package, speeding up the proposal creation process. This customization will allow you more flexibility when creating proposals and also allows you to automatically kickoff a project once the deal is closed.
Commissions are often the lifeblood of a sales rep and headache for accounting. Zoho does not offer a commission function out of the box. To solve for this we include a custom script module to track commissions. The commission module allows you to specify commissions on a total deal amount of line item details within a quote. The settings allow you to specify if reps get a flat or variable (%) commission and even extend to referral fees for lead generators or marketing partners. Our setups also include scripts to automatically create a bill in Zoho books for these referral fees. When paired with our Vendor portal (Optional addon) vendors will be able to track their referrals, commissions and payouts via the portal. Checkout out our case studies to learn more about how this setup serves as foundation to create Dashboards and portals for Manufacturers reps, Distributors and Dealers and Referral partners.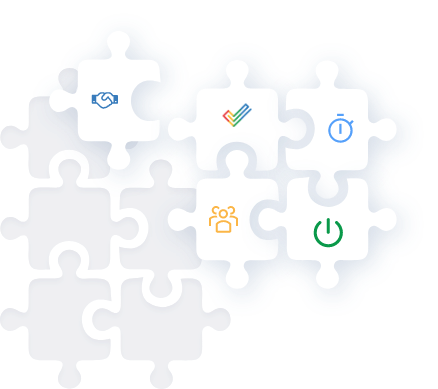 One of the most important features we include in our Professional Services setup is a blueprint that forces sales to go through a deal approval process before the deal is confirmed and pushed to operations. When a deal is marked as "Contract Signed" the deal enters into an approval process to ensure the contract is complete, customer notes up to date and handoff docs prepared for operations. You can also add your own conditions to the checklist.
Once the deal is confirmed for ops, projects or angagments can be kicked of manually or automatically by using the option to have projects auto created once a deal is marked as complete. We do this by building a custom module in the CRM to store Project Templates that are built in Projects. When you populate your products and services in the CRM you can associate each product/service to a project template. The system will auto create the projects and associate them to the Deal and Account in the CRM to keep all departments on the same page.
Different projects call for various invoicing schedules. Our setups include two options to automatically create invoices in Zoho books. The first option is to create a retainer invoice as a "Deposit". This option is great if you work off a retainer or want to collect funds upfront without recognizing revenue. When the work is complete an invoice can be generated for the project total and deposits can be applied to the invoice.
For time and material billing, Zoho allows users to log time to projects at either a project or individual rate. From Zoho projects admins can generate invoices in books based on project time logs. 
Sales and account managers can be kept in the loop since admins have the option to reflect invoices statuses, and balances  directly in the CRM.
There is nothing more important than client satisfaction in a professional services firm. Central to this is communication. Customers expect to have access to their information, project statuses, billing info and ability get in touch with their account managers in an efficient and timely manner. 
We setup a client portal directly on your website to serve as a one stop shop for clients to do everything from filling out onboarding docs and submitting information and documents securely to checking project statuses, paying invoices or updating a subscription. Users can even manage passwords securely, access gated content and submit  support tickets through Zoho Desk.
Our Portals connect to more than 10 Zoho apps and are customizable so they integrate seamlessly with your website and branding.
Contact us
for the Full Implementation Plan and Pricing